Automotive Batteries
With the modern vehicle and the increase in Auto Electrical accessories, the battery and charging system has become more important than ever. Modern batteries such as the calcium/calcium, when discharged can be differcult to recharge. This has caused all sorts of problems for the vehicle breakdown / jumpstart services. Sometimes resulting in another flat battery the next day.
In the right application, Calcium/Calcium (Ca/Ca) batteries last longer and have the added benefit of being maintenance free, but your purchase decision should not be made on those facts alone. Ca/Ca sealed maintenance-free batteries should be fitted to vehicles that have alternators that produce at least 14.2 volts. Ideally 14.2 to 14.6 is required to effectively maintain Ca/Ca type batteries. If a Ca/Ca sealed maintenance free battery is fitted to a vehicle that does not produce this level of voltage, the battery will eventually go flat and need to be removed and recharged on a special Ca/Ca capable charger. This can take over 24 hours, which creates unneccesary inconvenience and vehicle down-time.
Many New Zealand workshops and autoparts stores only stock and sell Ca/Ca batteries, and will promote the maintenance free benefit of these products. The convenience of a maintenance free battery is quickly overshadowed by the inconvenience of a flat battery when a Ca/Ca battery is fitted incorrectly. The solution is to fit the older type battery, which is known as Hybrid Technology, due to the mix of calcium and antinary additives in the battery plates. Exide have New Zealand's largest range of Hybrid Calcium antinary batteries.
At Mike Murphy Auto Electrical we offer a free battery and charge test while you wait. If you have had a flat battery, we can fully recharge it on our Smart Charger.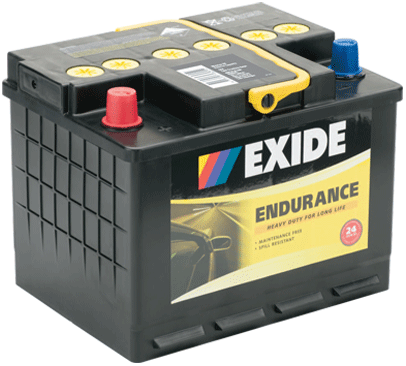 Mike Murphy Auto Electrical stock a complete range of EXIDE batteries for the following applications:
Motorbikes
Cars
Heavy Transport
Deep Cycle Marine Applications
Agricultural / Construction
In the event we don't have the battery you need, we will be able to source to meet your requirements. Our battery prices are very competitive and start from $89.